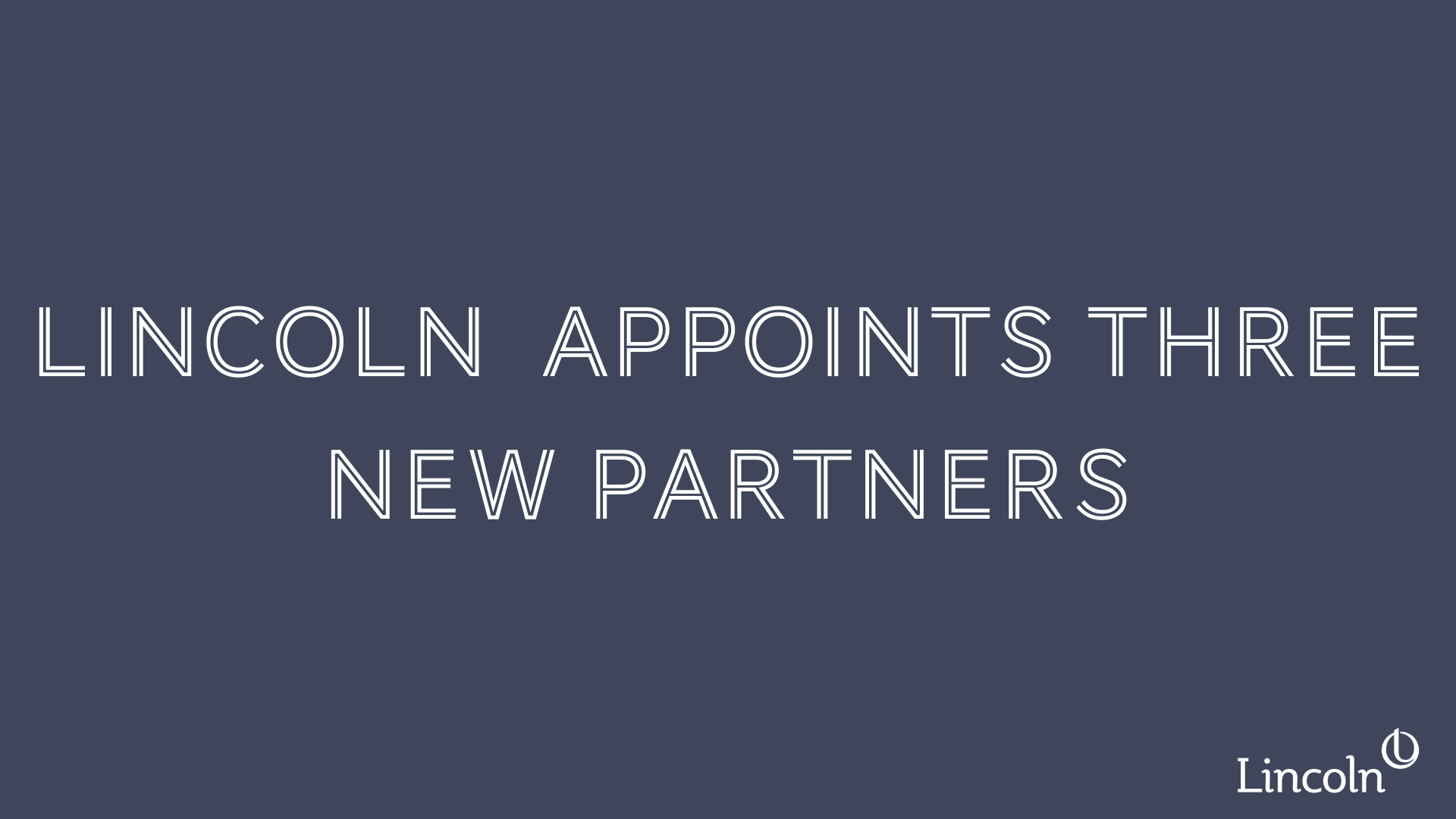 Our mission is to accompany Talents throughout their professional journey, to help them grow and develop in order to build a stronger and more inclusive world together
An internally recognized expert headquartered in Paris, Lincoln offers talent development, executive recruitment and professional mobility services. Combining innovation and societal commitment, Lincoln breathes new life into accompaniment of companies, executives and candidates. In order to support its growth, Lincoln is adding three new partners: Geoffrey Baudeux, Céline Laffin and Antoine Lamy.
In the last 30 years, Lincoln has serviced various sectors such as corporate finance, industrial, technology, FMCG and healthcare. With an existing strong presence in 8 countries in Europe and Asia, Lincoln recently expanded into a new market through the acquisition of Cooper Fitch, a boutique talent consulting firm in the Middle East.
Today, Lincoln is pleased to announce the appointment of three new partners: Geoffrey Baudeux, Céline Laffin and Antoine Lamy, and now has 10 partners and 200 people. United around the same collective ambition, they are convinced that the development of future organisations requires innovative models in human capital management. The three of them are delighted to extend their experience and thought-leadership to both the Lincoln external and internal Talent community.

Geoffrey Baudeux graduated from ESC Rennes business school with a specialisation in finance, and began his career directly at Lincoln. Initially working in the Brussels subsidiary, he trained as a recruitment consultant before joining the Paris head office in 2017. As a consultant then as a team manager, he supervised the development of the Financial Services practice, which recruits experienced financial services professionals and supports them in their mobility challenges. In June 2022, Geoffrey Baudeux became a partner of the group.
«I currently have a double role at Lincoln. Firstly, I am lucky enough to be a team leader, which allows me to manage consultants in their daily work. And I am also a Talent Agent myself. When I recently became a partner of the group, my first ambition was to get even more involved in the life of Lincoln. Becoming a partner opens me up to essential strategic thinking, but more than that, it gives me the opportunity to be involved in all matters related to the development of the company and our business. I am also lucky to work in a team with people who inspire me. In the future, I think our jobs will evolve towards even greater proximity. As Talent Agents, our ambition is to be as close to people as possible, becoming their primary contact over the long term, in order to guide them in all the key stages of their professional journey »

An engineer graduate, Céline Laffin began her career in France in 2002 in a food start-up as Product Manager. In 2007, she relocated to China and joined the CARREFOUR group as Quality and Sustainable Development Manager. In 2010, she moved to consulting, first supporting companies in China for ALTIOS International, then providing operational consulting and interim management for EIM. In 2017 she joined Lincoln to set up the subsidiary in Hong Kong. She now oversees the development of the firm's activities in Hong Kong, Singapore and South East Asia.
«I started my career as a Talent Agent by joining Lincoln 6 years ago. It was an exciting intrapreneurial adventure to establish the firm's ultra premium positioning in an extremely competitive market. Today, we accompany our Talents in Asia in the same way as our Paris headquarters, with curiosity, empathy and passion. I wanted to become a partner in order to be more involved in this company whose values I fully share.
The future for Lincoln ? Innovation through the adven of digital technology will undoubtedly bring us even closer to our Talents in a more human and of course sustainable way.»

With 21 years of experience, Antoine Lamy spent four years in commercial and entrepreneurial roles in Vietnam before specialising in recruitment consulting. He spent 11 years with Page Group, where he had the opportunity to establish the real estate division in Singapore and build the Page Personnel brand from scratch. Between 2016 and 2018 he was in charge of Morgan Philips's Hong Kong office. He joined Lincoln in 2018 to manage the development of the Shanghai office. Antoine also continues to build his expertise as a Talent Agent.
«I am delighted to have joined four years ago a firm that puts Talent at the heart of its concerns.At Lincoln, there is a strong emphasis on listening, empathy and long-term relationships. We are driven by our mission to support our Talents and very proud of the trust they place in us, which we strive to live up to.
I also have the good fortune and great pleasure of working with a curious, caring and dynamic team. We work with people and companies who demand high quality execution from us, which is rewarding. Becoming a partner of Lincoln is to wholeheartedly sign up for a common adventure that we share with the team and the other partners.»
About Lincoln
Founded in 1992 in Paris, Lincoln provides Talent Management and Talent Representation services, recognised as one of the leading providers of Executive Search services. Lincoln brings together Talent Acquisition – Executive Search and Executive Interim Management – and Talent Development – Leadership Advisory and Outplacement, within specialised sector practices. Lincoln is present in Europe, Asia and the Middle East. Lincoln supports leaders and managers throughout their professional life cycles. Lincoln has a turnover of €28 million and 200 people.
PRESS CONTACTS – WORDCOM Consulting
Telephone: 00 33 1 45 44 82 65
Eglantine de Cossé Brissac eglantine@wordcom.fr
Ellora Possenti rp@wordcom.fr